Hardwood, Vinyl, Ceramic, Oh My! 
When was the last time you cleaned your floors?

We're not talking about the last time you ran your sweeper-mopper across the floor, either. We're talking about the last time you gave your floors a good, thorough washing. In fact, it was so good, you called yourself the cleaning machine afterward.

… Maybe that wasn't you. And it could be the case that its been ages since you busted out your mop and bucket.

It's okay! Not everyone enjoys cleaning, nor has the time to stay on top of it. But if you're wondering how to clean floors, you've come to the right place. Whether you have hardwood, tile, ceramic, or a combination of all different types of floors – we're here to help.
Say no more to sloshing around warm water and calling it a day. Here's the best way to clean floors the right way!
Pre-Mop Basics
We don't recommend using a wobbly mop at home, kids. The sturdier your mop, the more thorough of a job you'll be able to do. Sponge mops are great for small areas while string mops are better at covering larger spaces.  
Personally I like a microfiber strip mop – (see Clean Floors page). My favorite is the O'Cedar Tuff Mop.   I also like use a Flat Microfiber Mop system for cleaning large areas quickly. 
The same goes for your broom. If the bristles are falling off or curl upwards, it's time to for a new one. There's no sense in mopping if you can't get a good sweeping beforehand. When sweeping, create smaller piles with short, contained strokes.

What about that lone line of dirt that your dustpan always seems to leave behind? 
We hate it, too. To combat that obnoxious dirt trail once and for all, wipe it up with a wet paper towel. 
Or you can pul out the vacuum and really remove the dirt from crevices and grout lines!  This can be the best thing for removing hair, which can be a real bugger to remove if you get it wet.
And that's it for the pre-mop basics!
---
How to Clean Floors with the Right Cleaning Solution
Mopping may seem pretty straight forward. But the key to shinier, cleaner floors boils down to the type of cleaning solution you use.

So, which kinds of cleaning solutions should you use? We'll explore how to clean floors with the right solution next.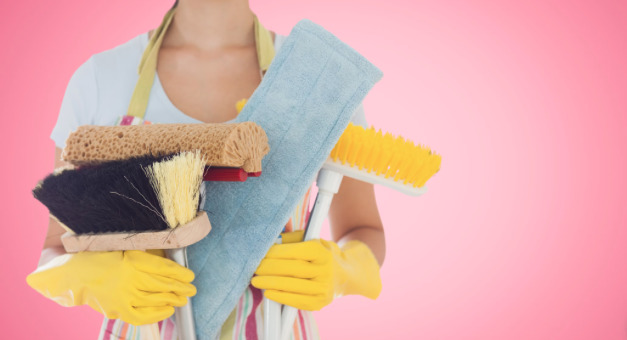 How to Clean Laminate Floors

Some commercial cleaners can be harsh on laminate. If you're wondering how to clean laminate floors naturally, try a 50/50 solution of vinegar and water.
Or you could try a little bit of Simple Green, or Fantastik or 409 diluted in your mop bucket. I happen to like to use Murphy's Oil Soap. Jeff Campbell likes to use a drop of clear ammonia.

For tough stains on laminate, put some jojoba oil on a towel and hold it over the stain. Then, wipe it away with a clean towel and some water.
---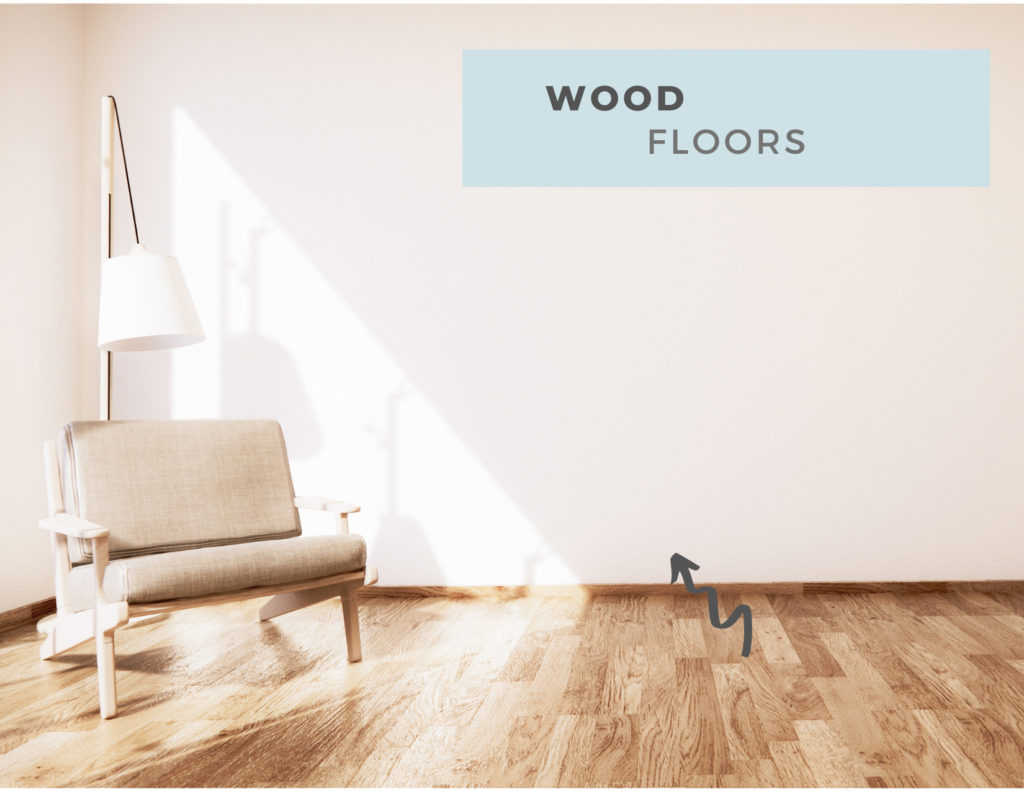 How to Clean Hardwood Floors
Things can get a bit tricky when it comes to cleaning hardwood. Commercial hardwood cleaners can produce harsh and harmful fumes. 
But never fear! If you're wondering how to clean hardwood floors, we've got you covered. First things first:
Standing water is the biggest thing you want to avoid when cleaning wood. Even the smallest puddle can cause wood to warp after a couple of minutes. 
The key is to use a spray bottle. What should you fill it with? A 50/50 solution of warm water and vinegar works wonders on wood. If you don't prefer the smell of vinegar, you can add essential oil to the mix. A lemon oil and warm water combination is also a classic cleaning solution for hardwood.
Again I prefer to use Murphy's Oil Soap diluted in your solution, especially on wood floors.
This method is especially good with a Flat Microfiber Mop System _(see Clean Floors page). I usually wet the pad in water or solution first. 
---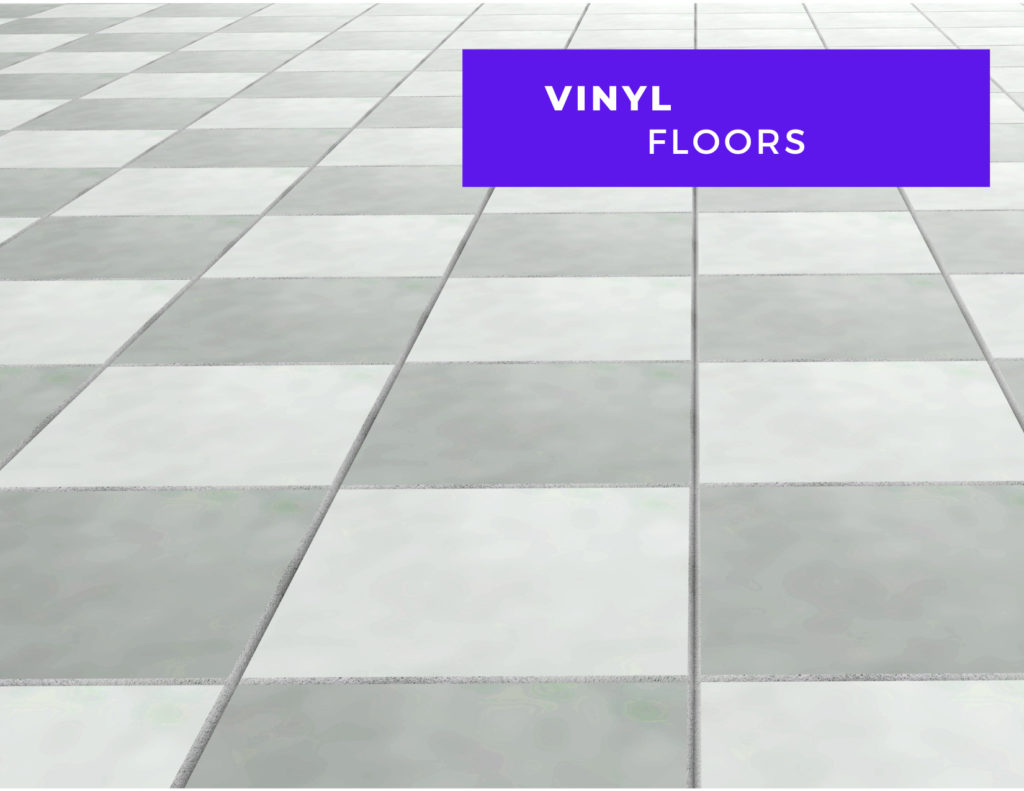 How to Clean Vinyl Floors
What's the best solution for cleaning vinyl floors? A 50/50 mild dish detergent and water solution are great on vinyl. But it's not unheard of for people to use an apple cider vinegar and water solution. Add a tablespoon of mild dish detergent to this solution for tougher messes.  Jeff Campbell recommends a drop of clear ammonia in your bucket.

For stains that won't go away, you can apply rubbing alcohol or a baking soda paste. If a cloth can't break away grime, try it with a soft-bristled scrub brush.  I have used a non scratch scrubbier sponge too. 
---
How to Clean Ceramic Floors
Are your floors made of marble, quartz, porcelain, or some other type of ceramic? The best way to clean floors made of ceramic involves a couple of easy tricks.

Try a mild dish detergent-water solution on your ceramic floor. You can add a splash of white vinegar, as well.

When cleaning tile floors, you'll want to use a string mop. A string mop can pick up more water and debris in the cracks between tiles, but I prefer a microfiber strip mop like the O Cedar Tuff Mop. ( See pic below)

Over time, the grout that holds your ceramic floor together can lose its color and durability. If you haven't sealed your grout in a while, you may want to put this on your project list.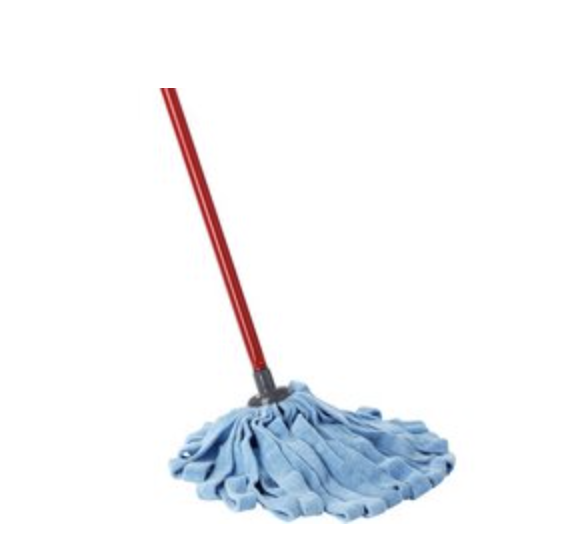 ---
Mopping 101
Now that you know which types of cleaning solutions you should be using, it's time to get down to business. First, make sure your bucket or sink is clean before filling it. Use warm (borderline hot – don't burn yourself here!) water to fill it with the cleaning solution. I like the O'Cedar Mop bucket with a strainer basket. You won't have to touch the water!
Again I like a microfiber strip mop – (see Clean Floors page). My favorite is the O'Cedar Tuff Mop.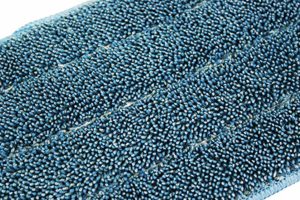 After immersing it in the water, wring out the mop. Water should not stand for long periods of time after running the mop over. Large amounts of water can seep through your floors and baseboards, causing damage. The water should dry almost instantaneously.

As you begin mopping, make sure you start in the farthest corner of the room. You'll want to work your way backward and towards the entrance – not away from it. (Otherwise, people will be able to tell your shoe size after the floors dry.)

Mop in small sections at a time. This will help you cover more space with the solution. Mop in a back-and-forth motion along the baseboards without hitting them, (unless you are using the O'Cedar Tuff Mop, good for cleaning the quarter rounds along the floor edges).  As you move to open areas of the floor, overlap your previous strokes. Passing over your floor a second time will help pick up any residue from the solution. You can use a scrub pad to wipe away any crusted dirt, tough stains, or grime.
It's important to replace your water as soon as it becomes murky. After the first and second mopping dries, give your floors a rinse mop with clear water. 
Dump the bucket out in the toilet or outside and rinse it well afterward. Give your mop a good wringing out and stand it upright. You don't want to leave it to dry downwards or inside the bucket.
Flat mops are also excellent. They are a time saver. You change out the mop pad so you always have a clean mop.
---
Make Your Floors Sparkle & Shine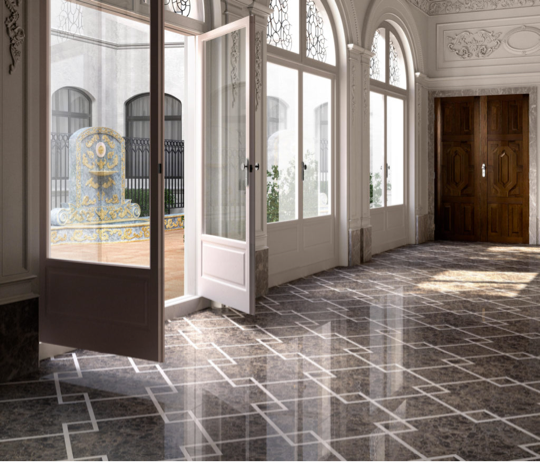 Well, there you have it, folks!

By following these tips, you'll not only create more lustrous floors. You can prolong your next mop job, leaving you more time to do the things you enjoy. (So long as you do maintenance sweeping on a regular basis and clean up any spills as they happen.)