A bathroom can be a utility room, a private place or it can be a haven, a peaceful place. It's your choice. Make your bathroom your own retreat, peaceful, and keep it clean.
t makes so much simpler if you become a minimalist in the bathroom.  Less clutter brings you peace and saves you cleaning time  
Try to remove extra things from counters and put them away before you clean.
Remove cobwebs from walls and ceiling
Spray your microfiber cloth and shine mirrors with it slightly damp
Spray and wipe counters
Clean sink
Clean bathtub/shower
Sweep floors
PRODUCTS FOR CLEANING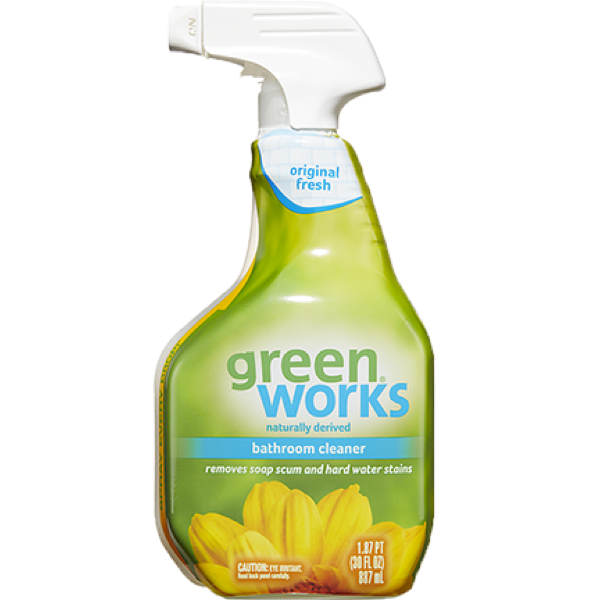 GREEN WORKS

by Clorox

No bleach in this, it is coconut oil based.  Good for :
 find at grocery stores or Walmart 
 
I add H2 Orange2, a hydrogen peroxide cleaner to my bottle to destroy bacteria etc..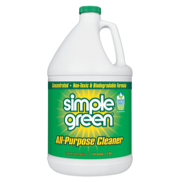 SIMPLE GREEN

Simple Green can clean everything.  It can be considered a nuetral cleaner, therefore less streaks.  It is concentrated so adjust the dilution for everything from glass to car engines. 

You can find it at grocery stores or Walmart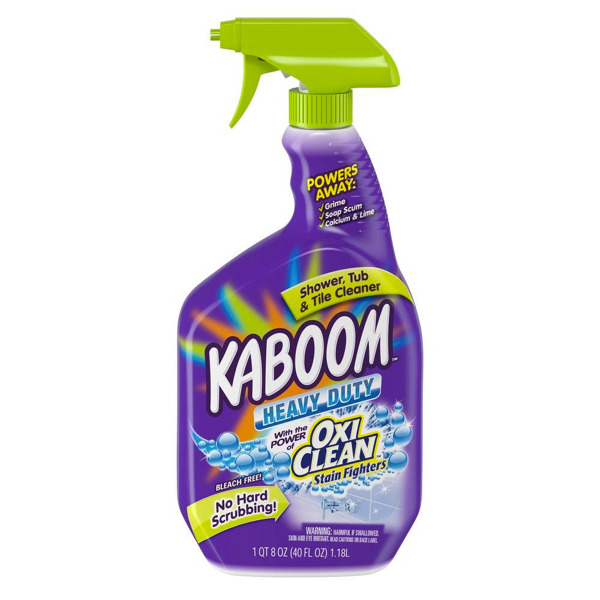 KABOOM

Kaboom will remove soap scum and lime from your shower and bath tub. 
 
Spray on, spread around with sponge, allow to set for 1 to 3 minutes,  rinse thoroughly.


find it at grocery stores or Walmart

Always follow directions on bottle – do not use on marble
LIME AWAY
  
Lime Away works very well and fast to remove rust and lime build up – but you have to rinse it well and do not allow it to remain on your surface very long – it is aggressive. 
Follow directions on the bottle
Do not use on chrome if your faucet is old 
Do not use on marble 
SCRUBBING BUBBLES
 
The Original Scrubbing Bubbles

 This is good for light clean up in showers.  Citrus based.  I spray on shower walls after my shower, keeps it clean.   Avoid leaving on chrome fixtures,  Kills many things on shower floor.  

Find at grocery stores or Walmart

Always follow directions on the can – do not use on marble


 Mega Shower Foamer  – Another Scrubbing Bubbles product – Good for quick powerful cleanup of scum on shower walls and floors.  Works fast!
  
Find at grocery stores or Walmart
Always follow directions on the can
Rinse chrome fixtures well.
 Do not use on marble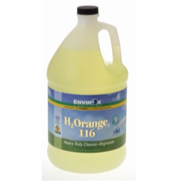 QUATERNARY CLEANERS
 
Quaternary cleaners are used in doctor's offices and hospitals to kill bacteria and viruses. 

Find it at Home Depot or janitorial supply stores

Good for floors and toilets.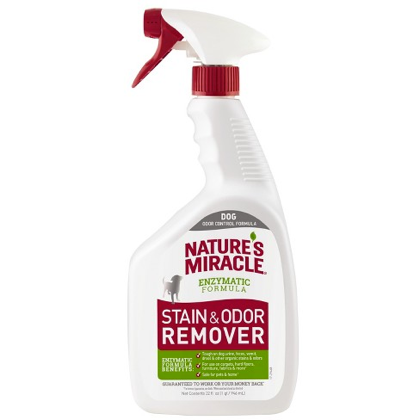 ENZYME CLEANERS

  Enzyme cleaners can work on urine and bacteria to eliminate that odor.  You can buy this at pet stores or janitorial supply stores. 
HYDROGEN PEROXIDE CLEANERS

  H2Orange2 is a hydrogen based cleaner.  They use hydrogen peroxide in doctors offices for spot cleaning. This is very safe and does not have to be locked away.

Or choose this Clorox product. Hydrogen Peroxide cleaners will kill the bad bugs but not the good ones, so it's good for our environment and your health.
RENUZIT FOR ODORS
 
Sometimes I have to add a little Renuzit spray.  10 minute dwell time required. 

If you still have an odor problem
try an enzyme cleaner
or try spraying the area with a steam cleaner
try a disinfectant cleaner


  Or you can use a dilution of Mr Clean All Purpose and Hydrogen Peroxide
---
MIRRORS
We need to look at ourselves in a mirror on occasion so a clean mirror is necessary. People usually use Windex and a paper towel. You could also just use a paper towel to wipe the mirror after your shower.
I have heard that using shaving cream on the mirror is a good way to keep the mirror from fogging up.
---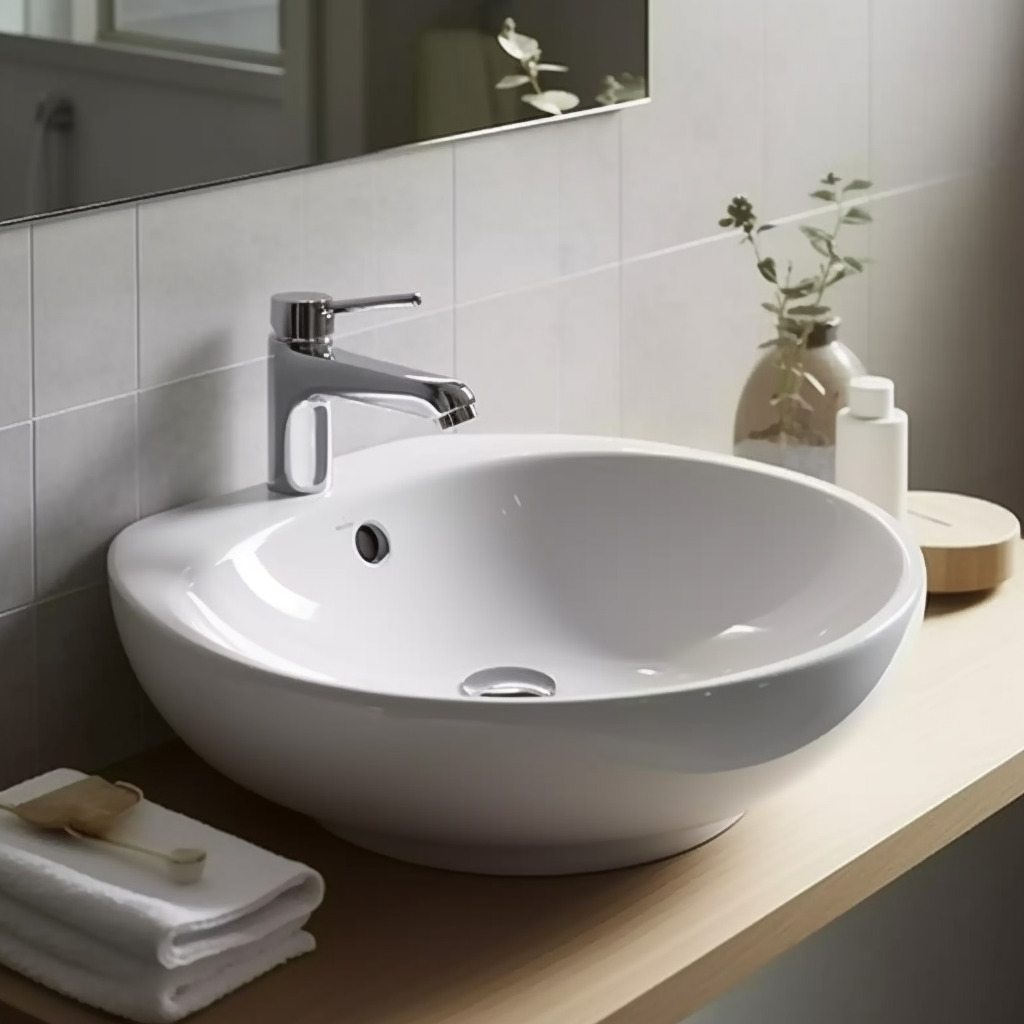 THE SINK
Remove the clutter off the counter. Spray with your solution or Windex with a microfiber cleaning cloth. Shine the faucet and handles.
Cleaning a Shower or Tub
Cleaning a shower can be a slippery, yet rewarding, endeavor. Here's a guide to help you tackle this task :
Preparing for battle: Before stepping into the shower-cleaning arena, arm yourself with the essentials. Don your superhero cape or shower cap (your choice!), equip yourself with a trusty scrub brush or sponge, and grab a bottle of shower cleaner that boasts the power to vanquish soap scum and grime. Now, imagine yourself as the fearless guardian of cleanliness, ready to embark on a heroic quest to restore your shower to its former glory.
Open a window. You need the fresh air so you will not be affected by any cleaning product fumes. You could avoid this problem by using natural cleaning products.
Lay a towel in front of the shower/tub. This will soak up any drips and will ensure that you do not slip when stepping out of the wet shower.
Remove any items from the shower.
Spray the cleaner over the shower or tub surfaces. If you are dealing with a glass door on tracks, you may need to stand inside the stall to spray the doors completely. Spread the solution around the surfaces with a sponge. Leave the stall and allow the solution to work. You don't want to breathe in the fumes.
After a few minutes go back into the stall and agitate the surfaces with the scrubbie side of the sponge. Close the glass doors. Use a container or small bucket to rinse the areas.
With a microfiber cloth, shine up the faucet and handles. You could also use a window squeegee to remove the water from the walls and doors.
Now tackle your toilet….
---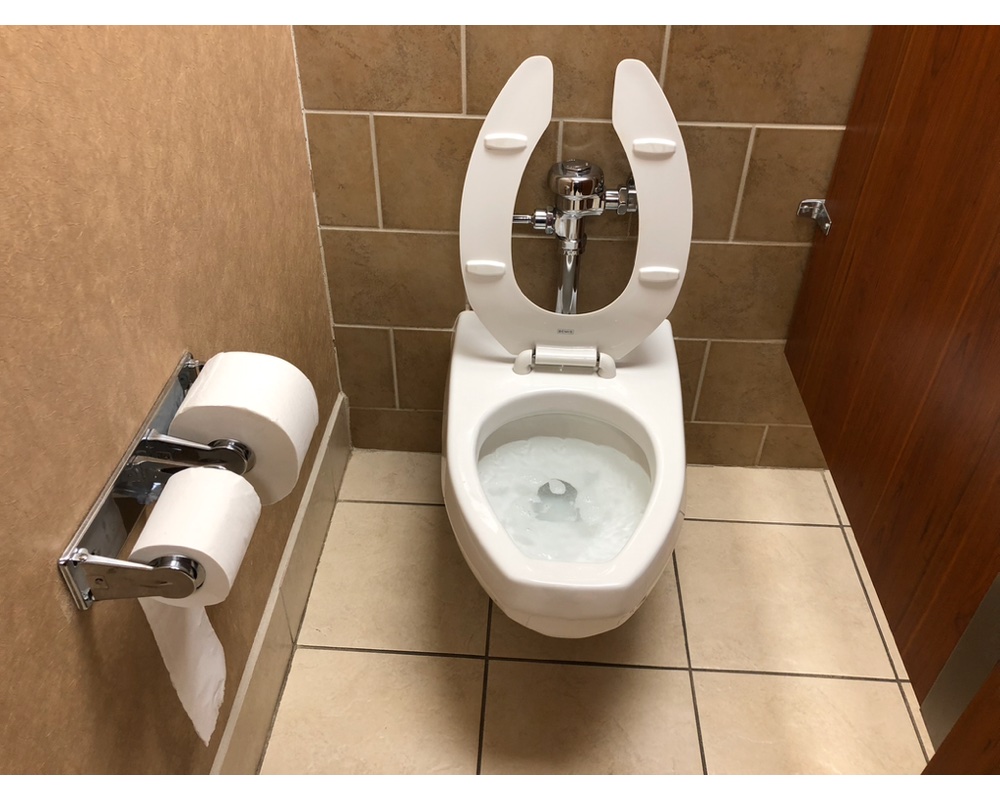 CLEANING A TOILET

    I clean a heavily used office and find this procedure best for fighting odors around the toilets.

Note: Don't forget to spray your cleaning solution on the areas surrounding the toilet:
cabinets
baseboards
walls
spray and wipe all vertical surfaces and baseboards near the toilet ( anywhere there may be splash back)
Allow 10 minutes "dwell time" for solution to work
Solution will drip down into crevices – hinges
Use old toothbrush in crevices if necessary
Then wipe surfaces with Microfiber cloths or Paper Towels
Wipe around the bottom of the toilet and the floor
---
CLEANING A SHOWER
TO CLEAN A BATHROOM